ABOUT ME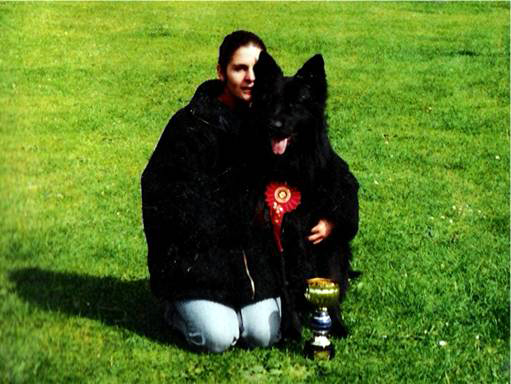 My name is Rebecca Williams, I have owned German Shepherds for over ten years now. I live12 miles from Lincoln, surrounded by the most wonderful countryside, where I can fulfil my lifelong dream of breeding my own puppies. My other love is obedience training, I am a member of the Lincoln German Shepherd and All Breed Society and have recently started to instruct there. I am finding a class with 10+ eager faces quite difficult but it is important to me to put something back into a club that has taught me so much over the years. I also work voluntarily for the R.S.P.C.A and I am a breed advisor for the DOGS TODAY magazine.
I am relatively new to the world of dog breeding, having spent many years research before embarking on this journey but it is the most amazing and fulfilling experience. My aim is to produce excellent dogs that are of good type and conformation with temperaments to match, I do not breed for size or colour.
I still have so much to learn, and I am constantly challenged by the responsibility and enormity of this tremendous vocation.
I am overjoyed that so many people find my fur kids as wonderfully addictive as I do. To me they are my sun, my moon, my stars, and the reason I get out of bed in the morning. I am as utterly devoted to my fur kids as they are to me and I must be the luckiest person alive to be loved and cherished by so many.
I am so very proud of what I am doing and cannot imagine any other way of life. Yes our house is full of dogs, dog hair and the usual 'doggy odours', at night the bedroom floor is wall to wall carpet with fur kids, and the good old days of a clean and tidy me are long gone! and more often than not the humans do not get fed until 10.00pm.
For me this is heaven.
My beautiful boy Shadow (Class Reason by Albesa) is a dream to work, he is eager to please, precise and always willing to do whatever is asked of him. These wonderful qualities certainly seem to be passed on through his offspring, as they are doing well in both obedience, trials and agility. I am really proud of all his progeny.
Shadow is the foundation of 'Albesa' German Shepherds and owning and working him has been an honour, together we have learned and achieved so much, he will always be my best friend and I love him dearly.
Rearing a puppy is not easy, and careful consideration must be given before any decision is made. A puppy will require lots of your time and money. I strongly recommend training your puppy at an early age, as both training and socialization are paramount to produce a well adjusted adult.
Genuine, responsible animal loving homes are always welcomed, and if ever I can help or advise in any way then please call me (Becky) on 01673 857176 or email me using my simple contact form.
I hope you enjoy my site and find my Fur Kids as wonderful as I do.